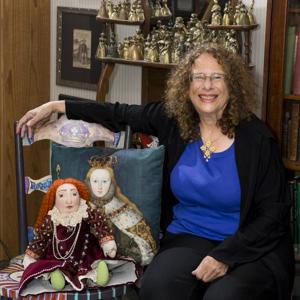 Carole Levin: A 'queen' of sorts in her medieval scholarship
Carole Levin is one of those people who seems to bring light into the room when she enters.
"Ph.D.," "medieval" or "historical scholar" are not words likely to race to mind upon meeting her. With her radiant smile and youthful springy hairdo, one might not peg her as a Willa Cather professor of history at the University of Nebraska-Lincoln for the past 13 years or director of the Medieval and Renaissance Studies Program for the last seven. But she is both.
When she was a little girl growing up in the Chicago area, her father, who worked at an ad agency and taught college English, and her mother, who was an artist and homemaker, made sure she and her three sisters got to the public library. During a weekly visit when she was 10 years old, she found a book about one of the world's greatest monarchs, England's Queen Elizabeth I, who ruled alone from 1558 to 1603. Years later, she says, "Elizabeth Tudor is a woman who captures the imagination and does not let it go."