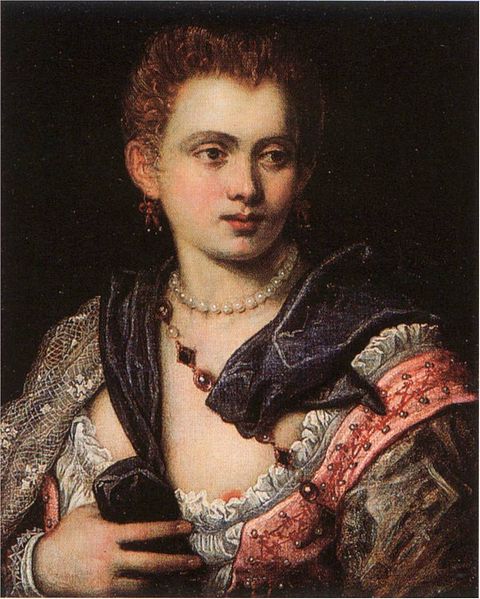 Veronica Franco, a Venetian courtesan tried for witchcraft, was considered one of the leading lights of literature of the 16th century.
Born in 1546, a young Veronica followed in her mother's footsteps - Paola Francasa was "cortigana onesta" whose name was entered in the "Catalogo di tutte le principal et piu honorate cortigiane di Venezia" (The Catalog of All the Principal and the Most Honored Courtesans of Venice) in 1565.
While courtesans in general lived in splendor, and were educated to some extent, the "cortigiane oneste", the honored (meaning privileged, wealthy, recognized) courtesans were the ones who had intellectual life, played music, knew the literature of Greece and Rome as well as of the present, and mingled with thinkers, writers, and artists.
We do not know exactly where, how, and in what conditions she died in 1591. Since she already had financial problems nine years before her death (as seen in the 1582 tax report), she very likely died, impoverished, quite possibly in the prostitutes' quarter of Venice, forgotten by powerful patricians that admired her at the height of her career as an honored courtesan of Venice.
read more about Veronica
@
Academia
- Veronica Franco and the 'Cortigiane Oneste': Attaining Power Through Prostitution in Sixteenth-Century Venice
read also:
Selected Letters dited and translated by Ann Rosalind Jones and Margaret F. Rosenthal
Shinning Eyes, Cruel Fortune: The Lives and Loves of Italian Renaissance Women Poets by Irma B. Jaffe
The Honest Courtesan: Veronica Franco, Citizen and Writer in Sixteenth-Century Venice by Margaret Rosenthal